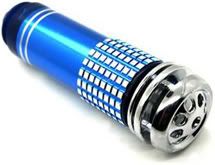 On several occasions, I've written at length about pain - meds, spine, ear aches, etc. All organic, they've run the gamut. So why is it, that when one is presented with something entirely inorganic, that the pain begins anew?
Boy, that sounded like BS.
Anyway, as Marilee is the uber shopper around here, I've begun to see the pleasure in finding deals. Even if you have no outward intention of actually buying anything. As such, I'm always looking to see if there's anything new under the sun at
woot!
, and the fave around here,
DealSucker
.
Dealsucker alerted me to quite the deal today, a "Car Oxygen Bar In Metallic Blue".
I'd seen these previously, and
the deal today is quite impressive
- at just $2.99, I'd love to have one. particularly for the truck, but also for our Rodeo. And ultimately for the Grand Am, but since it's been sitting dormant in the driveway for six months or so, still with a mangled passenger-side window, that will have to wait.
Anyway.
Painful is the description of the ozone generator. Written in pristine Engrish, it's actually a joy to read, in a perverse sort of way. Likely cut 'n' pasted verbatim from the original text, there's nary a hint that whomever pasted it attempted any form of correction. Thusly:
This product produces ozone and anion which can rapidly eliminate the car inside soot, peculiar smell, and have force sterilization, purification air, make your car air as fresh as bathes in the forest
.
Uh, bathes in the forest?
The anion is called "in the air of Vitamin", is beneficial to the health of human beings
.
MY definition of anion is a negatively charged ion.
Plug and play installation
.
I'd certainly hope so.
Has the best medicine function, and can effectively reduces the cough, sneezes, asthma's incidence of a disease
.
Careful, there. Now we're claiming medicinal properties? Call the FDA!
Suitable for all 12V car power
.
Yeah, 24V car power has been out of vogue for some time.
Direct insertion the portfire, the blue lamp bright denote enter the work estage
.
Saved the best for last. "Portfire", as far as I can tell, is a device for igniting fireworks. As the generator is blue, a blue lamp - more likely an LED - seems plausible. But "enter the work estage" puzzles me the most.
Anyone care to take a stab at it? Any Engrish majors out there?