Friday night, class was out an hour early, so Marilee and I took advantage of the extra time to go out and 1) get photos of the Golden Gate Bridge from what I knew would be a great vantage point, and 2) get dinner from a typical San Francisco eatery.
The photos were easy - if you haven't seen those yet, they were in
my Saturday post
. But the dinner? That was an adventure in its own right.
After stopping for the Golden Gate photo-op, Marilee asked if there was a Popeyes Chicken nearby. There was, but due to the nature of the area - finding parking on a Friday night would have added to the problem, we decided instead to find something else with a bit of Bay flair.
I knew Sausalito was nearby, so it was north that we headed.
I'd been to Sausalito on my last trip, but only as a turnaround to go back over the bridge - and pay the southbound-only bridge toll of $7. Jill did well to direct us to a likely-sounding restaurant; alas, the place was no longer there. With that in mind, we decided then to just drive around a bit and hope for the best. As it was indeed a Friday night and all available parking spaces were full, we decided to try our chances further north.
We figured heading back to US-101 was the way to go - that was unfortunately not the case. Sign posts in California are for Californians who traverse those highways and byways on a regular basis, not for those who are used to a pair of mountain ranges on either side of the valley and streets laid out like bombing coordinates.
Upon realizing we were about to head back south over the bridge, I made what approximated an illegal U-turn and headed up a mountain road I'd traveled last time, but kept going. And going. And since the fog had started to settle, it was going to be a crap-shoot whether we ever were going to see the light of day, let alone Dublin or even Utah again.
Admittedly, it was some drive. Probably a drive that non-locals don't get to do, unless they, too, made an illegal U-turn sometime further back. But at one point, a U-turn wasn't an option, once we saw the following sign: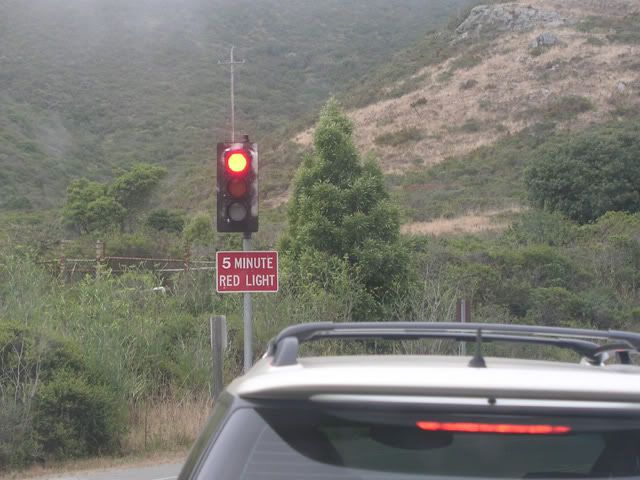 (Yes, it really does say that.)
An additional caveat would have been nice, something like "one-lane tunnel ahead". After going through the aforementioned tunnel, I told Marilee I had to know about this route upon our return to Utah - this post is the result of that search.
More at
Caliber
.
Oh, and dinner was at McDonalds.