Generally speaking, I don't have any claustrophobic problems, but if I lived in San Francisco, I surely would. I wasn't prepared for some of the streets I was navigating, as there was hardly any room between opposite-facing building in most of downtown. Cannot EVEN imagine navigating those streets on a regular basis.
After class today, having time to kill, I decided to drive yet again onto the peninsula for one more photo session at the Golden Gate Bridge. But for naught. Just couldn't get the reddish tone quite right. But that's OK.
Did get down to Pier 39, though, for a mad dash shopping frenzy, to get just one more thing for Marilee. I think she'll like what I got.
So after leaving the touristy area, I was off to...
We pause here for what has become a ritualistic endeavour of mine - traveling ANYWHERE on a busy holiday weekend, and
this
weekend is no different. Imagine leaving a major metropolitan area on the first day of Memorial Day weekend, and your first departure point is THE beginning of THE most major East-West route in the ENTIRE United States.
Yes, Dear reader, Interstate 80 Eastbound BEGINS in San Francisco, and EVERYONE was headed east at the EXACT same time as me.
The gridlock had already started long before I was close to the onramp. Jill led me rather well, though she got confused a few times since there wasn't a clear view to her GPS satellites.
Can't imagine why: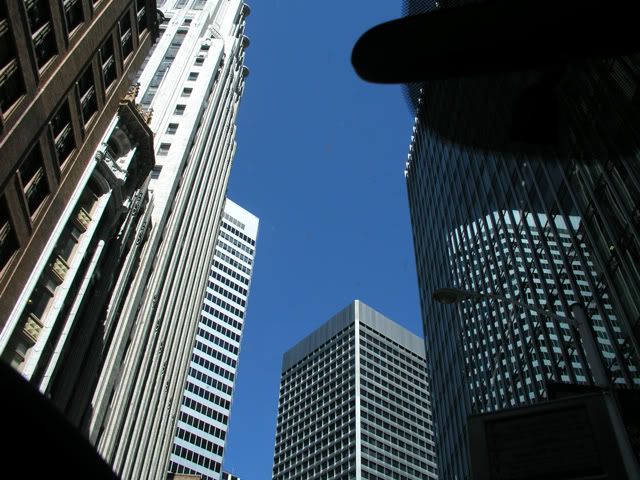 (That's the rear-view mirror in the cab of the truck if you're wondering)