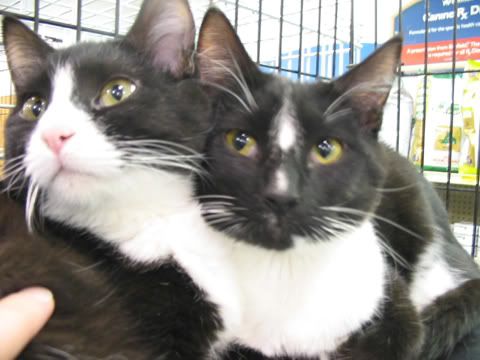 Mandy & Felix turned three years old this month. These two have been up for adoption since they were kittens. Please help spread the word, let's get these two a home!
'Mandy & Felix were so happy when they were rescued in the fall of 2007. Although a bit nervous about their new surroundings after living as ferals, they quickly showed their appreciation for a warm & comfortable home with plenty of food. They absolutely love each other and are seen snuggling, grooming and just enjoying one another's attention, they would never want to be separated. However, Mandy & Felix can not understand why nobody has come to offer them a forever home after years of waiting, showing at adoption events, and wondering when their turn will come. Their sensitive souls are hoping for that one person who will overlook the fact a cage is scary and loud noises will startle them. If that one special person will take them home, they will show their grattitude by snuggling next to them while they watch television and gaze at them appreciatively while being petted. Mandy & Felix would be happy to share a home with other cats, they simply want a loving home where they will be safe and cared for.'
Adoption fee is $80 for both cats. They are spayed/neutered, microchipped and vaccinated. For more information go to
www.caws.org
or email
cawsdotorg@aol.com
.